First-Time Buyer Info
Congrats on your decision to buy a scooter or motorcycle!  While it's an exciting event, it can also be a little daunting.  We've outlined a few considerations we find important when buying  a scooter or motorcycle.  If, after reading this, you have any questions at all, feel free to stop by our shop or give us a call and we'll be glad to help.
Your Budget
Not only should your budget include how much you're willing to spend on a bike, but it should also take into consideration expenses such as riding gear, insurance, and a lock.  Most people budget for a bike and then cringe when they find out they have additional expenses.
Riding Gear
There are lots of choices for riding gear, which are specifically designed to keep you safe and comfortable while riding.  At the very least, we recommend that you purchase a helmet (because it's required by law), riding jacket, and gloves.  Prices can vary depending on your needs and the styles.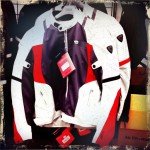 While it's very tempting and convenient to shop online for some really good deals, the most important thing about riding gear is making sure it properly fits you.  If it doesn't properly fit, it can't properly protect you.  Not all brands and even styles within a brand will fit you the same, so we encourage customers to stop by and try gear on.  We can help you find the right fitting gear that meets your budget and needs.  More information about the riding gear we carry can be found here.
Bike Security
Scooters and motorcycles are easy targets for theft in highly-populated places like the DC metro area.  It's important to properly secure your vehicle with a good lock when you're not riding it.
Insurance
We recommend getting full coverage, which offers you protection in the event of an accident or theft.  Knowing you have good coverage can give you peace of mind should anything happen to your bike.  Many insurance companies provide coverage for scooters and motorcycles now and offer discounts for holding multiple policies (e.g., home and/or car insurance) with them.
Education/Safety
We highly recommend taking a motorcycle safety course before you purchase your first bike.  These courses teach you the fundamentals of riding, the basic mechanics of a bike, the importance of safety gear, and tactics to being a smart rider on the road.  The Motorcycle Safety Foundation offers a courses all across the country.  In some states, taking and passing the Motorcycle Safety Foundation's class can waive your need to take the state's motorcycle test to obtain a motorcycle license.  Also, with some insurance companies, taking this class can lower your insurance rate.
The Motorcycle Safety Foundation and similar organizations also offer courses for experienced riders.  They are a good way to brush up on your skills.  Other riders may benefit from events like track days, where they can hone their riding skills in a controlled environment.
Buying a Bike
As for buying a scooter or motorcycle, there are many options.  You can buy new from a dealership or used from a dealership or private party depending on your budget, needs, and mechanical ability.  Buying a bike is a large purchase.  We recommend that you or a friend inspect the bike in person – get a feel for what it is like and ask the appropriate questions before you commit to buy.  Your research should include various brands, their models, and whether a trusted local shop will service your bike.
Caveat emptor is a phrase that all buyers should know.  It means let the buyer beware.  Beware of random stores selling cheap Chinese scooters, beware of deals that sound too good to be true, beware of scooters and motorcycles sold without titles (if used) or the manufacturer's certificate of origin (if new).  Also beware of sellers, whether private or dealers, that give you an uneasy feeling.  Buying a bike, especially your first one, is a big step.  Being prepared and cautious can help make the experience a pleasant one.
Check out our page on buying a scooter to get you started in the decision making process.