FAQs
If there's a question that you still have, feel free to contact us through our web site or give us a call.
Gear
When looking into purchasing a scooter or motorcycle there are additional costs that need to be factored in.  Such costs include: motorcycle insurance, protective gear (e.g., helmet, jacket, gloves), a chain/lock for your bike, and other accessories you might want.

In addition to wearing a helmet because it's required by law, we recommend getting a pair of gloves and a riding jacket.  Riding gloves are specially designed to give you a better grip on the handles as well as protect you from callouses.  They also protect your hands if you were to fall off your bike.  Riding jackets offer you protection from the elements (wind, road debris, rain, etc.) and falls, but they also offer you added protection in the shoulders, elbows, and back.
Laws
If you are a Maryland resident and ride into DC on your scooter, you need to have a helmet and insurance, which is required by DC law.
Safety
For those looking to learn how to ride we recommend taking a safety course.  Some of the most popular courses are offered by the

Motorcycle Safety Foundation

.  They offer classes at some local community colleges in Virginia and Maryland.  There is also a private school called

Apex

.  For those looking for more hands-on instruction, you can also contact JW Coe at Premier Cycles.  He can be reached at 240-508-5350.  JW is a customer, former MSF instructor, and a Maryland Park Police officer.
Scooters
We don't actively stock 49cc scooters.  However, sometimes we might carry one or two that's on consignment sale and we can special order one if a customer absolutely wants one.  The way the laws are structured in Washington, DC, there's no real benefit to owning a 49cc scooter - you still have to have a motorcycle license, insurance, and tags for it. At that point, you might as well buy a scooter with better power (like a 125cc scooter) to get around town. Complete details on the motorcycle laws in DC, check out the Department of Motor Vehicles site.

This is a comic from Genuine Scooters.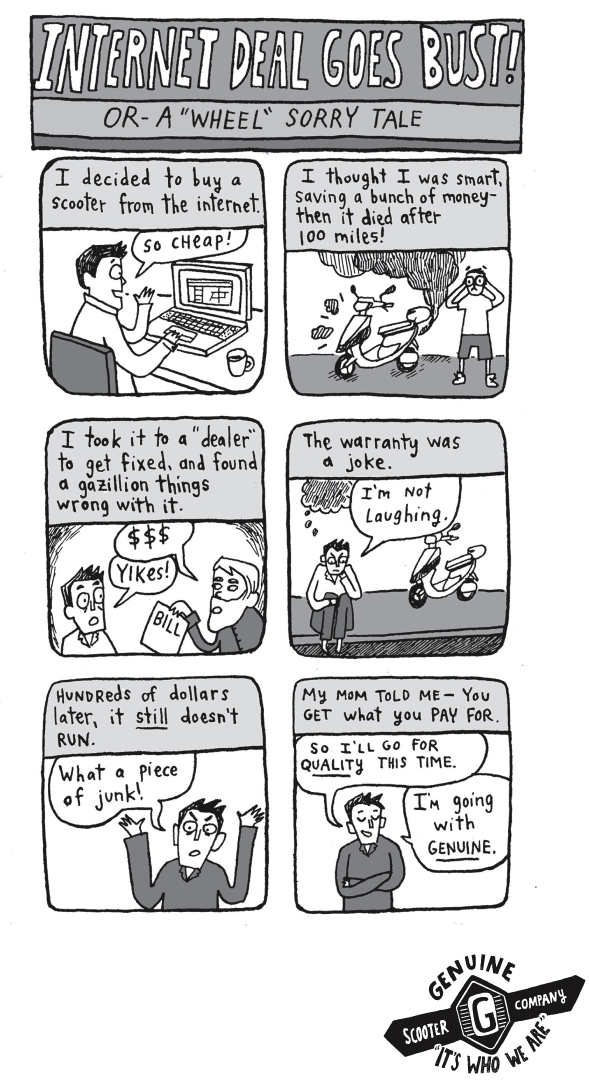 Security
It is extremely important to secure properly secure your scooter.  Improperly secured scooters are more likely to be targets of theft.   We recommend a chain/lock system specifically designed for scooters/motorbikes.  It's important that you lock your scooter smartly.  Many people think securing your scooter through the front wheel is ideal.  However, a thief can easily undo the bolt to your front wheel and walk off with your scooter.  We strongly recommend that you secure your scooter through the rear wheel.  It takes far more effort for a thief to remove the rear wheel to steal your bike because it's connected to much more.  Also, when you can, lock your steering column as an added deterrent.

We encourage our customers to secure their scooter with a chain/lock system specifically designed for scooters/motorbikes.  These chain/lock systems are made of highly tamper-resistant metals making it very difficult to cut through (unlike a regular metal chain, which can be  cut with bolt cutters).

Yes.  It is important to lock your scooter with a chain/lock system, especially if you leave your bike in the city.  While buying a decent lock might be pricey, it's a worthy investment that can save you the hassle and heartache of a stolen scooter.

Parking is an issue for scooters and motorcycles in Washington, DC.  Mayor Eric has a great primer on

motorcycle parking in DC

.  As for parking elsewhere, it is ultimately up to parking enforcement officers to determine if your parking activity (for example, parking on the sidewalk) is punishable (by a $100 or more ticket).  Do remember when parking your scooters and motorcycles that theft is a major issue in the greater DC area - that means that using a good lock and key.  We like to tell people that their bikes either should be being ridden or should be locked up.