Tire Checking Time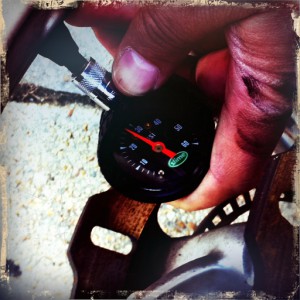 When was the last time you inflated your tires?  For many people the answer is never.  The unfortunate consequences of not monitoring your tire pressure on a regular basis (at least every couple weeks) are reduced fuel economy, unstable handling and accelerated tire wear.
With a simple tire gauge you can transform the handling and performance of your scooter or motorcycle.  How do you do this?
Step 1: Research what your tire pressure should be.  You can usually find this information on a sticker on your vehicle, in the owner's manual or online.
Step 2: Buy or borrow a tire gauge.
Step 3: Check the tire pressure when the tires are cold.
Step 4: Pump up your tires using a portable pump or you can often pump them at a gas station or your favorite shop.
Step 5: Remember to replace the caps onto your tire valves.  Also use the opportunity to remove rocks from your tire tread, check for tire wear and inspect that you do not have screws, nails, glass or staples in the tires.