NEW! Other Genuine Scooter Models
We can special order any of the other models Genuine Scooters offers. All new Genuine Scooters come with a 2-year warranty and 2-year roadside assistance.  For complete specs, check out the Genuine Scooters web site.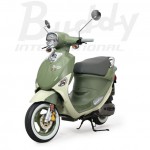 Buddy "Lil" International, $2199
It's hard to get more European than the Buddy Italia or the Buddy Pamplona.
Stylish and romantic, the Buddy Italia would be home circling the coliseum or running errands in Milano! We've had many Italians tell us how "Bella" our little Italia is!
Tapas, sangria, or a little bullfight, perhaps? The bullish little Pamplona suggests that every day is a FIESTA! Great colors and plenty of Latin flavor make this a favorite for both men and women! Dare to take this Buddy by the horns!
Plenty of power, over 100 miles to the gallon on regular gas, and in MOST states all you need is your drivers license!
Buddy 50, $1999
This Buddy is just like its bigger counterpart, but with a smaller engine and a cheaper price.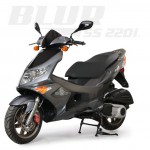 Blur, $3999
The Blur SS220i, America's only truly "Sport Scooter". Hop on and you'll know that it was designed by enthusiasts with one thing in mind: Performance. It accelerates smoothly and rockets through the mid-range, launching you to over 70mph in a heartbeat. Blur will take you through twisty roads, handling sharp corners with ease. Stopping power? Front and rear disc brakes will stop you in a big hurry if you're in one. Dynamic mid-section suspension ensures instinctive performance at all speeds. Electronic injection minimizes service and maximizes fuel efficiency. Plus 70 miles per gallon will keep you out in the fresh air, leaving the old gas guzzler at home.
The Blur, from Genuine Scooters. A perfectly balanced precision machine with the fit and finish you'd expect from America's favorite scooter company. NOT for everyone, but perfect for the guy or gal who needs to "push the envelope". You will be the envy of all scooterists; they'll lose sight of you quickly as you leave them eating your dust.
Roughhouse, $1999
You asked for a set of wheels that is practical, tough, sporty and fun. May we proudly present the Roughhouse 50! This scooter offers rock solid weekday transportation and penny pinching economy. The generous underseat storage, combined with an optional rear rack and top case, makes your Tuesday night trip to the grocery store a breeze. But like the name implies, the Roughhouse isn't afraid to have a little fun on the weekends. The improved 50cc performance lets you easily evade Sunday drivers while dual-sport knobbies keeps you going when the pavement ends. The Roughhouse is knocking, wanna come out and play?